Our platform for contemporary art and media, Directors Lounge, had been invited to compile a row of film screenings for PCFS | The Post Colonial Flagship Store. Joachim Seinfeld and André Werner curated three screenings, Greeting cards from reality.  Short and experimental filmlets from all parts of the world  shed a light on the ongoing impact of the colonial background on contemporary life.  Reason enough to take a closer look the Post Colonial Flagship Store that opened it´s doors for two month at the Freiraum  quartier 21 international at the Museums Quartier Vienna.  The PCFS exhibition project by Sven Kalden and Georg Klein camouflages itself as a branded Popup shop, cleverly playing with the iconography of noble flagship stores as you find in the center of the metropolises.  The  artworks are presented as consumer goods, dealing with a new, cladestine form of colonialism.
Since the outbreak of the global financial crisis Europe has been entirely occupied with itself, struggling with bankrupt states and rescuing big banks and their investors. And even today, Europe is still not prepared to acknowledge the foundation of its own
wealth, which remains immense, even if increasingly unjustly distributed: the colonial past and the post-colonial present.

Georg Klein, Sven Kalden CEOs of PCFS
By entering the PCFS, Post Colonial Flagship Store one was invited into a strange realm inbetween an exhibition and a comsumer heaven. The golden wallpaper, ornamented with a fine pattern of thin lines as known from banknotes worlwide set the mood for a space dedicated to the power of global economics. Like in a shopping mall you could find several sub stores, there  was even a bank branch to change your Euros into Afros.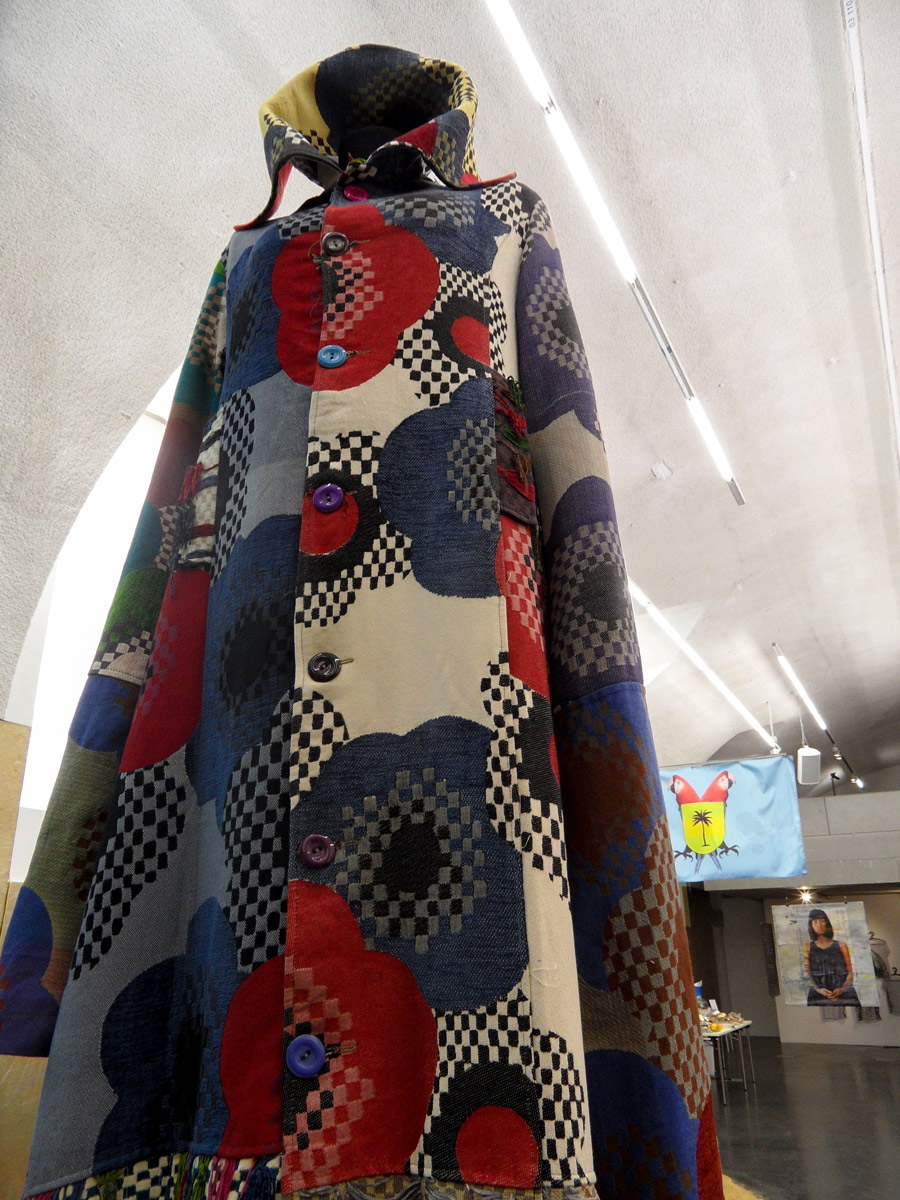 Amazingly beautiful Haute Couture with Chinese cuts and African materials, created by Lamyne Mohamed, commented on the huge economic influence of China in Africa.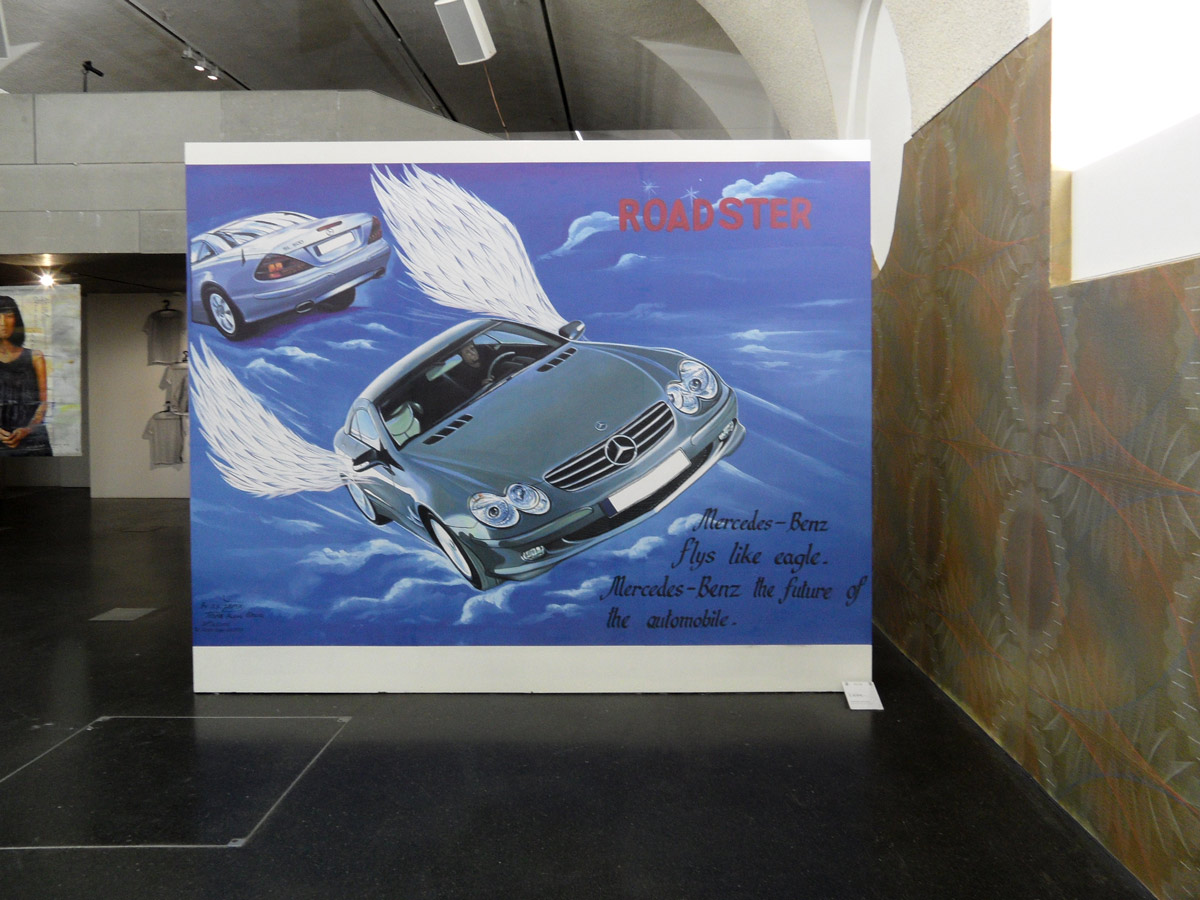 Billboards promoting big German companies offered a new glance on the brands as they had been made by poster painters from Ghana. In a clever move these billboards had been also placed outside the exhibition space, like real billboards on scaffolds at construction sites.
Vucumprà – The Other Side of Holidays, a series of postcards by Joachim Seinfeld, depict a souvenir vendor, a common sight on Italian beaches. The so-called "vucumprà" (the name Italians give these immigrants) took the photos, and also chose the location and how they were to be photographed.
An installation by Georg Klein and Steffi Weismann UNzuRECHT A UNorJUSTNESS A  presented three different ways to earn money which appear to be independent of one another, but which in the globalised world are all directly connected.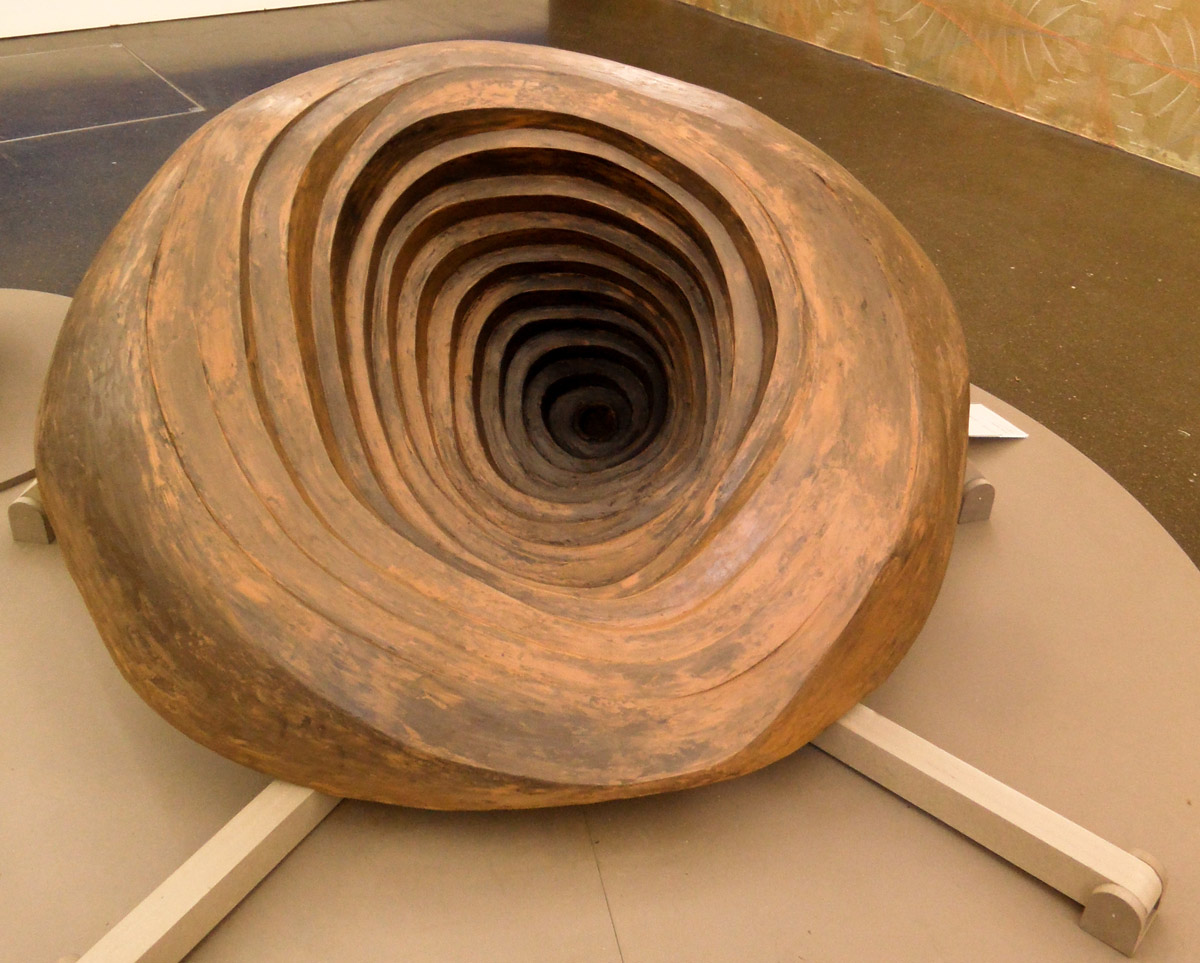 Two gigantic cornutopias, Horn of Plenty I / II by Sven Kalden served as perfect symbols for the metaphorical shop of all goods. Based on the topographically concave forms of familiar mine structures, these icons of everlasting consumption are indeed just empty forms.
As you would expect in such a place, there was of course a score playing constantly throughout the store.  The PCFS soundtrack was developed and produced live on spot by La Vie en Bô / Agnès Guipont, who also gave a stunning live performance at the finnisage of the PCFS.  "Colonial products" (coffee, sugar,rice, tea, cacao) were then used as instruments to create the rhythms and sounds. The lyrics  integrates political and literary texts and make use of  interviews conducted by Agnès Guipont.
Probably the most delicate offer at the PCFS has been a gourmet delight by Bernhard Draz, Genuine Austrian Führer Balls, The sweetest seduction since 1938.
In commemoration of Austria´s own colonisation and it´s brave, inner resistance, one of their greatest culinary creations has been ornamented with the portrait of probably the most important Austrian of all.
Several more video works, installations and even the offer for European adults to find new  godparents in Africa  (ADOPTED by Gudrun F. Widlok) made the PCFS a post colonial rollercoaster of clever loops and surprising twists.
The whole Post Colonial Flagship Store is a sublimal, hidden persuasion to rethink the mechanisms behind our culture of consum. The PCFS Vienna closed it´s doors at the end of November, new Pop-up stores in Berlin and Paris are in the pieline.
Next time you are on a shopping spree look out for a PCFS | The Post Colonial Flagship Store next to you.
visit PCFS | The Post Colonial Flagship Store
The full program of Greeting Cards from Reality at Directors Lounge.
photos: ©  André Werner